Display your Real Estate Listings on Facebook!
List the properties you display on your Crystal Real Estate Display also on your Facebook Page!
Now you can obtain wider exposure to your property listings online using your Facebook page by adding the free Crystal Display Facebook App.
Using the Crystal Display Facebook Property Listing App, the properties you publish on your Crystal Real Estate Display screens can be automatically showcased on your agency Facebook page with no additional effort. Once the Facebook App is installed on your Facebook page, you're up and running.
How does it work?
It's simple, add the Crystal Display Facebook App to your company Facebook page and your property listings displayed on your screens are also available on your Facebook page. When you update the property information in your Crystal Display portal, the property listing information is also automatically updated on your Facebook page. No additional effort or maintenance is required. It's a perfect complement to your Crystal Real Estate Displays
What if we don't have a Facebook Page?
No problem, we'll create one for you. All new Crystal Display clients will receive a complementary Facebook Company Page and our Facebook Property Listing App setup and ready to go FREE OF CHARGE.
Want to see an example?
Head over to Crystal Display's Facebook page and check it out for yourself - Crystal Display Facebook Real Estate Property Listing. Don't forget to Like our page!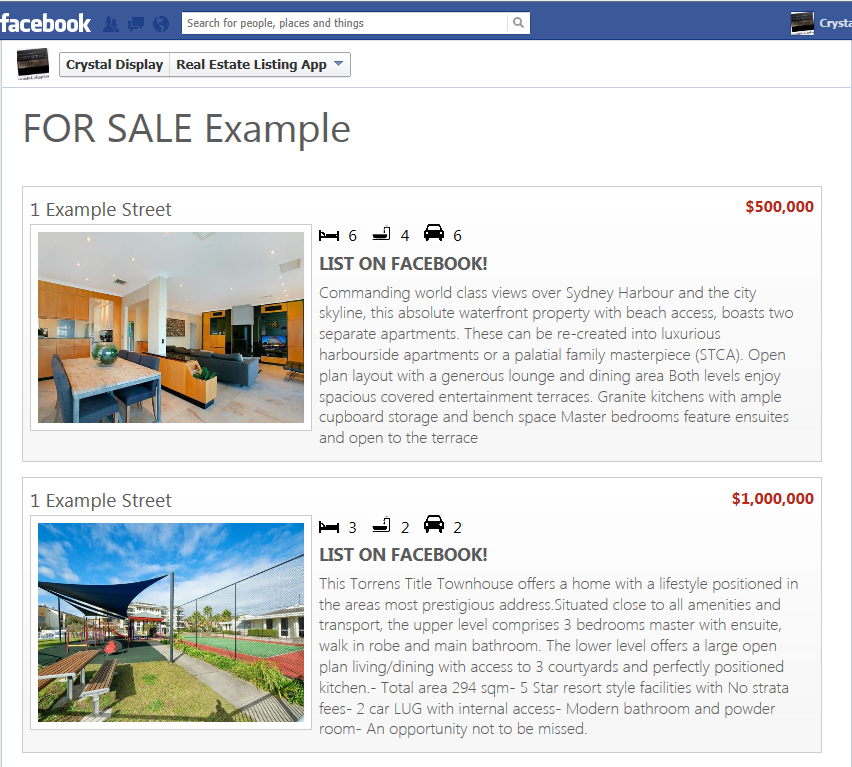 Don't forget to Like us on Facebook