Why do agencies choose Crystal Display?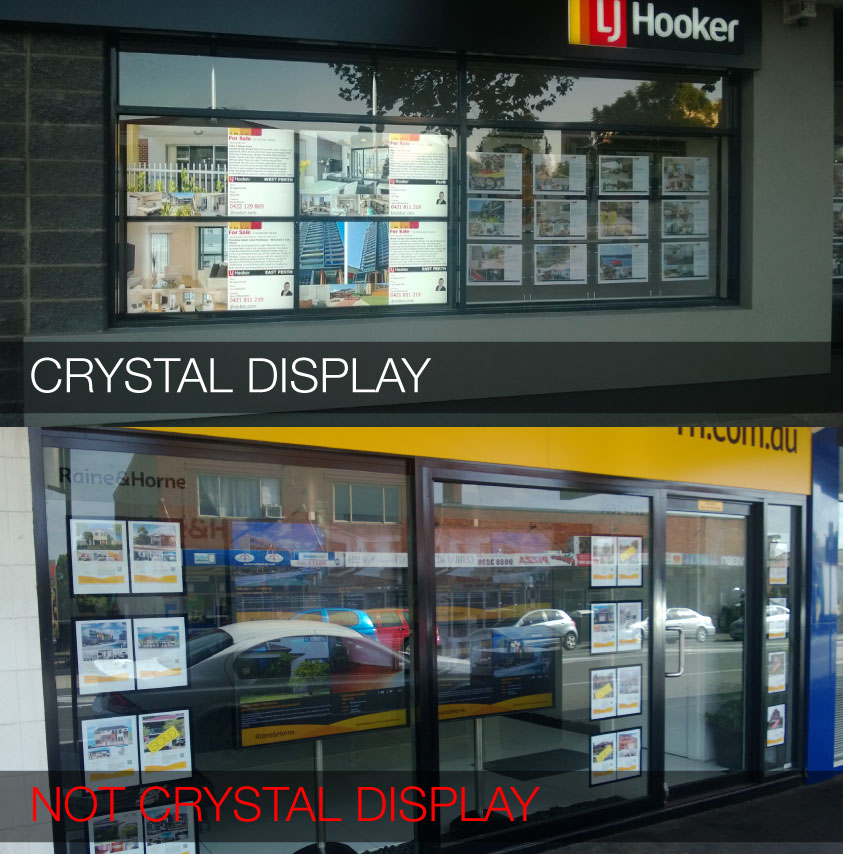 Real Estate Agents across Australia and New Zealand are choosing Crystal Display because quite simply they want their display to be clear and visible during the day as well as during the night.
Crystal Display has the best real estate window display products available. Furthermore, we don't just supply window displays, we also support our clients with their marketing needs.
We understand the primary objective of the real estate window display is to attract new business and we also understand that displaying property listings doesn't necessarily achieve this. This is what makes Crystal Display different from our competitors. Crystal Display provides a range of specialised marketing services which we combine with the right technology, our unique combination is designed to produce the results you're aspiring to achieve.
What do we offer that's different?
Worlds Brightest LCD Displays

Crystal Display has been delivering Real Estate Window Displays for long enough to know there is no substitute for brightness. Investing in a digital display for your window will only produce a return on investement if people can see it. If people can't clearly see the content on your window display not only will your display fail to produce the results you're expecting but it will have a counter effect.

Good signage can make a big impression on prospective vendors, just as poor signage can communicate an unfavorable impression.

Marketing

As a Crystal Display Partner, you gain unrestricted access to our experienced marketing team to help you get the right messages onto your display. Having a nice bright display is one thing, having an effective marketing message working for you on your display is another. We help our Partner clients build their business by working closely with them to create visually appealing marketing content designed to attract new business.

Industry Focused

Crystal Display provides the very best experience for your agency by integrating with the platforms and systems you currently work with. Crystal Display has established relationships with most industry leading portals and applications which allow us to receive live feeds of your listing data directly into the Crystal Display system. We currently receive feeds from My Desktop, PortPlus, REX, RHCompass, AgentBox, Inhabit, REST, LJ Hooker E2 and we are exclusively the only real estate display company to be integrated with Century 21 ESales.

Superior service and support

In addition to on-going training and support, Crystal Display aims to resolve Partner support requests within the same day received. Our average time to resolve support inquiries is within the hour.

Product Guarantee

Crystal Display systems are backed up by our unique product guarantee, the only one of its kind in the real estate digital signage industry. Crystal Display Partners also receive benefits such as 24/7 system health monitoring, display upgrades, technology refreshes and nationwide support.

Advanced Technology

Crystal Display systems are the most advanced in Australia, backed by the most powerful graphics engine, easy to use online management application and supported by a Nation-wide network of technical staff.
No Hidden Costs, all inclusive plans
Crystal Display is the only real estate display provider to offer an all inclusive plan, no hidden costs and all servicing and maintenance included. Crystal Display is a hassle free and very cost effective solution.
Seven reasons to choose Crystal
1. World's Brightest Displays
We are the only company who doesn't cut corners on our product, that's why we're the only company offering the World's Brightest Real Estate LCD Window Displays. Not only are our displays brighter but typically our displays are larger than those offered by our competitors.
2. Specialised Marketing
We are the only display company who provides you with the marketing support you need. No-one else in the industry provides specialised marketing services to help you achieve results. If you want the ability to display professional looking custom marketing material without incurring massive graphic design costs, then look no further!
3. Product Guarantee
We deliver on our promises and back this up with a product guarantee.
This means we will provide you with a service level agreement which includes all parts, labour and on-going maintenance. We will replace screens at their effective end of life.
We even offer 30 day money back guarantees so you can experience the benefits before making a commitment.
4. People, service and support
We believe in building long term relationships with our clients to work with them to deliver a long lasting mutually beneficial outcomes.
We always answer the phone, we always fix problems and we always deliver on our promises.
Our network monitoring systems maintain a close eye on the health status 24 hours a day. Our remote monitoring system can detect problems before they occur, thus enabling us to minimise the impact in the event of a failure.
5. Reliability and Technology
Crystal Display only uses quality components and products. We have designed our own real estate display product with adjustable heat management systems which we can monitor from our operations centre.
Crystal Display systems use the only purpose designed screens that carry approval for placement in direct sunlight.
Our systems outperform and last longer than competing lesser quality products so your windows will always look their best.
6. Best visual effects
Crystal display has the best looking on-screen effects to produce maximum visual impact.
Unlike our competitors, we have a custom built display controller in every screen, we don't leave some bulky server or media player behind on the floor with cables travelling to the displays. Each display unit has a dedicated powerful embedded computer which produces a professional looking installation and eliminates having a risky single point of failure.
This gives us more power to provide superior quality display with smooth 3D animations and visual effects.
7. Easy to use
Our on-line Partner Portal is the easiest to use system on the market.
With a click-and-drag interface it is both powerful and intuitive allowing you to spend more time focusing on your core business and it only takes 15 minutes to learn!
You can access your screens anywhere via a web browser, allowing you to update the content of your screens at any time.